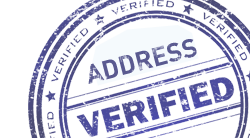 Address Verification
Address verification is the first and most critical element of a direct mail campaign.  Direct mail remains one of the most powerful marketing strategies available to a business like yours, but the success of your direct mail marketing initiatives depends as much on the quality of your mailing list as it does on the quality of the message conveyed to your prospective customers.
Every dollar expended on a brochure, postcard, or other marketing piece that arrives at an incorrect or non-existent address reduces your bottom line, as does the amount of postage paid.
ColorSource uses the NCOA/Cass Certification software program to reduce your mailing costs.
Cass certification can:
Increase the number of sales materials that reach your customer
Increase the number of sales generated by your direct mail program
Reduce the cost of returned deliveries
Provide you with the lowest postage discounts allowable by the U.S. Postal Service
Every extra dollar earned and every extra dollar saved goes straight to your bottom line.
Whether you are utilizing a purchased mailing list or one compiled from your own contact list and customer files, every list begins to degrade over time.
ColorSource's Address Verification system
The address verification system used by ColorSource will:
Verifying that addresses on your list are still valid
Culling dead addresses
Increasing the number and percentage of addresses that will be recognized by the USPS's Optical Character Reading technology (OCR).
ColorSource proudly serves Atlantic, Camden, Cape May, Cumberland, Burlington, Gloucester, Middlesex, Mercer, Monmouth, Ocean, and Salem Counties in New Jersey.  In Pennsylvania, we serve Bucks, Delaware, Chester, Montgomery and Philadelphia Counties.