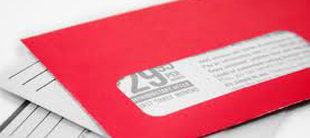 Overview
Think direct mail is going away? Think again. While people are using their smartphones to browse the web and check emails, direct mail is still very much alive, valuable, and effective.
Reasons why you should consider direct mail:
· E-mail in-boxes are overloaded. Most people don't have the time to sift through their messages, and are deleting those that are not important to them.
· Technology like laptops, tablet computers, and smartphones have pushed people to use email as their main method of communication, leaving less in your mailbox each day. That's a great reason to use direct mail – less competition!
· The high volume and burden of email presents a unique opportunity for direct mail.  Recipients have time to read that rare postcard or other direct mail piece and are more likely to take action, which means you have a responsive audience.
A 2010 survey from the US Postal Service reveals that 79% of Americans either read or scan through advertising mail that is sent to their households. That's why direct mail is such a great option – it gets your message across to the masses in a simple, inexpensive, yet positive way.
Services include:
Data Management
Mail Prep
Fulfillment
Variable Data
Match Mailings
Postage
Permit Usage